My first ITU race of the 2014 season is under my belt. I'm currently in route back to the USA and I'm smiling from ear to ear. In case your wondering why: 6 days in Japan, 24 total hours on a plane, a few bikes, some great people and fun race is just a few of the reasons why.
After our flight was delayed multiple times, we got to Yokohama on Wednesday night with my bikes safe and sound (phew). Watching them take my bikes out of the oversized luggage room at the airport is always one of the greatest feelings. Even better…. they both made it in one piece 🙂  My dad and I were pretty beat from the traveling so we headed to bed right after we checked into the hotel. Fun fact: Rooms in Japan are TINY, so tiny that until they could get us into a "bigger" room, we had to get another room so we could fit both bikes, my wheelchair, and luggage. Thursday and Friday were spent by the race venue, going for an easy swim, bike , and run, and the 4 other USA Paratriathletes arrived Thursday night. Friday night we all headed the race briefing and we met some of Team RWB, who would help some of us in transition. It worked out perfect connecting with Team RWB in Japan because transition is so crucial in these races so knowing they spoke english was extra helpful. By Friday night, I was feeling good and was just ready to race.
Saturday morning came around and we headed to the race venue. Being me, we arrived with PLENTY of time before athlete check-in even began but I always like using that time to go over the race in my head. Yokohama had pretty great weather while we were there but since the Paratriathlon race was starting at 6:55am there was a bit of wind that was making for some waves out in the water. After we checked in and I set up my transition area, I walked through to make sure I knew exactly where the mount/dismount lines were as well as the bike and run out. My wetsuit was on, hair was braided, and cap and goggles were in hand. Our names were called as we lined up on the pontoon for the deep water start. IT WAS GO TIME.
Swim: No lie, this was probably the hardest open water swim I have endured in the past 4 years. The waves were high and to be honest, I felt like a dead fish in the water being thrown from wave to wave. Overall, I think this was the hardest part of the race for me both mentally and physically. I needed to make sure the waves didn't carry me off the course so I sighted more than normal. I was in the pack which helped but with the swim normally being my stronger side, I could not let myself get too frustrated. The whole swim I remember telling myself; your a swimmer, you love water, what will a few waves do? As I came into the swim exit and was carried out of the water I remember just being relieved.
T1- We stripped my wetsuit right by my bike. This race they allowed our handlers to push us up and down the ramp from the swim, leading into transition because of how steep it was. Helmet and sunglasses were on but because of the cold water, I had a hard time getting my leg straight to be able to put in the bike. Although that costed me some time, there was nothing I could do about it.
Bike: The bike course was 4 loops. Personally, I love when bike courses loop because I always have an idea where I'm at. Although this bike course was pretty technical with multiple turns and two 180 turns per loop, it was super fun. On the first loop I made sure to take the turns with extra caution but I was super happy with how the bike went.
Run: Over the last month or so we have been doing more brick workouts (bike to run) to get my arms used to transitioning quicker because in previous races my arms would feel so fatigued on the first 1/2 mile or so but I was able to feel a difference in this race. My body seemed like it knew what to and my arms kicked into high gear. The run course was one loop of the bike course for PT1 athletes so it was still a bit technical but it was way less crowded than if we all did the same run course.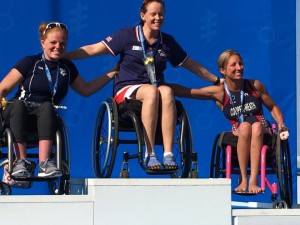 Don't get me wrong, I still have things to work on but I was also really happy coming across the finish line 2nd. They say, "Every great journey starts with the first step." I'm so happy I was able to see where I stand against some other great athletes because it shows me where I need to direct my focus in the coming months. After the raced finished, I was talking to Alyssa (another USA athlete) and we were saying how we cant wait t get home to jump in the pool or on our bikes. We then concluded we are addicted to the sport. However, this addiction is a good thing. It shows how we are eager to get better and how we will push or own limits to do so. As I have said before, the more you truly love and enjoy doing something, the more you will succeed. All of the other  USA Paratriathletes as well as elite racers did great and it wouldn't be possible without the support of USA Triathlon.
Rewind: Some of you know how my last ITU race before this in New Zealand (2012) ended,  if you didn't – I DNF' (did not finish). Being 16 years old at the time and not being in control of the situation that happened was not something I brushed off easily. Although it was not the ideal (at all) – I believe with all my heart that it helped me grow as an athlete. Yes, after going to New Zealand and having to pull out of the race due to an equipment problem was hard (really hard) but it left me ready to come back that much stronger. Deciding to take the 2013 season off to build a stronger training base was exactly what my head and body needed. I learned to love the sport first and through that whole year I learned that not every workout it going to be great, but we learn SOMETHING from every workout. From that we are then able to look at the sport so much differently. It really is like a little puzzle; a bunch of little things working together that come together to help you have a great race. Both your head and your heart have to be there first.
Well…. I still have 9 more hours left on this flight but I'm excited to be back in Chicago for a few days. I'll be back in Chicago for a week before I head to Dallas for the Pan American Championship next week. I hope everyone's summer is starting off with a bang. Thank you for all the well wishes, every single one means so much.
"Limitations live only in our minds. But if we use our imaginations, our possibilities become limitless."
Lots of Love,
MK