1 hand cycle, 1 racer, 1 everyday chair, 9 wheels and a few bags and we were finally off to San Diego for the first race of 2014! No words can describe how happy I am to be back into full racing mode this year! My dad flew into Tucson Thursday night and we rolled out to San Diego early Friday morning! Like I have said before- I'm so lucky to have my dad traveling with me for many of my races not only enjoy having someone else around but also because he may be one of the best handlers in transition 🙂 For those of you who don't know, in Paratriathlon most classifications are allowed to have handlers in transition with them! SInce I am a Tri-1 classification I am allowed to have two handlers during the race. These people are allowed to help carry me in/out of the water, get me off on the bike, and get me into my racer. It's a routine we have down to the very last detail. Although I like to think 100% independent in the sport, it's nearly impossible to get everything done in a safe and quick manner in transition. Though I can get a little "bossy" while in transition I know I can trust him to make sure my feet are securely strapped and that my speed fill is in my mouth before I roll out on the bike. My other handler for this race was my coach, Mark Sortino.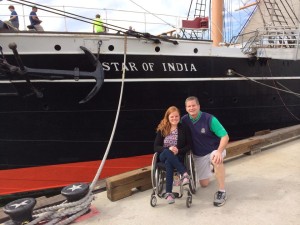 On Saturday, I headed out to Mission Bay to watch the Draft Legal Race. Watching Draft Legal Races is one of my favorite things. The intensity of these races are so high and the energy is unbelievable. Both the men and women had a mixture of collegiate and pro triathletes which made the atmosphere incredible. Being out there for the draft legal race let me get a better idea of the course, especially the bike and run course. After the races wrapped up on Saturday I headed out for a short bike and run on the course to make sure all my equipment was working and I was comfortable with the knowing the course. I've never seen so many bikers out riding on a Saturday afternoon until I was in San Diego. After I rode on Saturday, I was so excited for the bike course and was just ready to finally get out and race! My dad and I did a little exploring and of course took "typical tourist photos," but we had so much fun.
4:15am on Sunday my alarm goes off and I woke up with a smile from ear to ear. Finally- I was going to be able to race! We headed to transition and set it all up…hair braided too! The paratri wave was starting at 6:45…15 minutes before the collegiate men would start their race. I put my bright pink swim cap on and swam out to the start buoy. They had a paddle board and Go Pro next to me as I started the race. I was the only one in my wave so it was me and the jelly fish for the next 15 minutes. I was able to get into a good rhythm realitively quick. I knew that if I saw the men begin their swim, 15 minutes had passed. As I was getting closer and closer to the finish buoy I started to pick up the pace even more because I knew if I was able to get out quick, I could focus on a strong bike. I was about 150m away from the finish and the men began. I came out of the water at 16:07.
This time as I headed out on the bike I felt different. For the first time in a while, I was excited about the bike portion of the race. I was comfortable with where I was in my training and was even more comfortable racing in my new bike. I was both physically and mentally ready to ride. The bike course was fast and super fun! Being on the course with so many collegiate athletes also added a new kind of energy to my ride… I'll get to that later. The bike course was a 3 looped course which I really liked, as I came into the final loop and into T2- I was feeling good.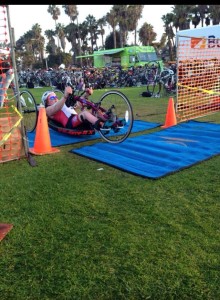 Out on the run I went! My shoulders felt a little fatigued for the first 1/4 mile  but by the time I hit the first straight away they seemed to be okay. This run course had more grass than I am used to pushing on but I tried to get that out of my mind. I knew I needed to take advantage of the concrete areas because the grass was something I couldn't avoid. I came into the finish as as one happy girl. A new PR and feeling great.
Having not raced since September – I was so excited about the time of 1:35.16. I know what I need to work in the next few months but starting the season with that race made for one happy triathlete. I think this race will fuel me even more while I'm training and it left me looking forward to the rest of the 2014 race season!
HUGE THANKS TO UNIVERSITY OF CALIFORNIA SAN DIEGO FOR PUTTING ON A GREAT RACE. I had emailed them back in October because I heard how fun this race was last year and it fell at a perfect time for me. Without any hesitation they emailed me right back saying they would love to include a paratriathlon wave. They went through the course in detail with me over the next few months making sure the course would be "para friendly." They walked through the course with me friday before the race and they made sure there were ramps wherever there was a curb on a run course. Bringing paratriathlon into a big collegiate race was something so neat. I am forever thankful to be able to train and race with a great group of people. They inspire me and training with them has been one of the greatest things. Due to being at the Olympic Training Center for a camp and racing the first LifeTime series race in South Beach- this was my last race with the TriCats for the season. Although I'll be racing on the other end of the country for Collegiate Nationals, I know the TriCats will rock it! Bear Down my friends!
My Dad and I headed back to Tucson after the race and slept like babies that night. We were able to run a few errands Monday morning before my Dad had to catch his flight back to Chicago. I have two weeks in Arizona before I spend the next month traveling to camps and races. Next Stop: The Olympic Training Center in Colorado Springs for a High Performance Camp with 15 other Paratriathletes.
"Positive Things Happen To Positive People."
MK