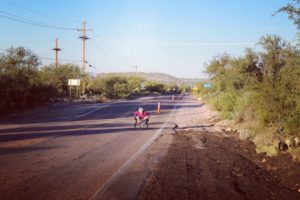 Running. When we hear the word run,  many times we associate it with running from something bad, someone we want to forget, or a situation we wish we weren't in. But how many times do we associate the word run with running towards something?
In 2 weeks, I will run The Chicago Marathon for the second time- my fourth marathon. This past Saturday was one of my last long runs before the race, and while it was hotter than hot out on the trail- I found myself thinking about why I crave running so much and how my purpose to run has changed over the last few years. It goes beyond the hours spent training, the miles logged, the finish time, the qualification standard, or the ranking.
Let's rewind to the beginning:
If you were in the March Kairos group that I led senior year of high school, you may have heard some of this in my talk – if you weren't- here it is:
In 2009, my brother Jack  suddenly died the day he was supposed to graduate from high school. It's something I don't talk about a lot but it is something that has definitely played a role in the person I am today. I was young (8th grade) when this happened. Nobody is suppose to lose their brother at that age, there is no hand book about how to live life after such a traumatic event, you just learn how grieve and find the strength to continue on with life. As an 8th grader, while I missed my brother beyond words; I also missed that "normal life" that our family once had. Our entire family and extended family was grieving – how could life go on like this? Would we ever be "happy" again? I was worried.
I'll admit, in the weeks and months following the death of my brother- I too used running to "run" away from what was happening; sports became an outlet for me to feel some sort of normalcy in my life again.
Then something clicked in my head; whether I was in the pool or out on the trail running or biking- I seemed to let go of every thought that was in my head. I was able to be present and just live in that moment.  It was also a time when I felt closest to my brother, Jack. His presence was missed on a daily basis but for me I feel closest to him when I was out there choosing to embrace this life. THIS WORLD.
I'd be lying if I said running cures everything. It doesn't. There were times  after Jack died that I would have tears streaming down my cheek while I was running, just wishing life played out differently. I would wonder why this deck of cards was handed to our family. However, I'd still put one foot in front of the other and run, why? Because I could. I get to pick how I want my life to be and running ALWAYS reminded me of that during this time.  Yep, that "runners high" everyone talks about after they run? It's real. Very real. I'd finish the run feeling grateful. Grateful for everything this life has given me. I have one of the best families, my friends seriously rock, and I believed. I believed in myself- I believed in a life. A good life.
Why do I enjoy my 5am runs the most?  You're running towards the sun. There is something so special about being awake before most people. Breathing in the air of the new day. Then you see this light start to grow brighter and brighter, the sun. Every single day we have the opportunity to be stronger than we were yesterday. As an athlete; it is about being physically stronger. As a person; mentally stronger. While neither living life without my older brother or running those long, hard workouts get easier; we get stronger with every day that passes by. I get to run towards a sun that symbolizes HOPE. I take a second during every run to just look at the sun and smile; in that moment I know Jack is chasing this life right next to me.
"Running is about your freedom to be you;" damn right is it. People think you can only be considered a runner if your "fast." Well guess what? That's not true. It doesn't aways have to be about running towards an actual finish line in a race. Why not run towards life? When I run, I'm running towards the person I want to be, the experiences I want to have, and the difference I hope to one day make in this world. I run to be me.
There are people in this world that will sit around and complain about their life but then make no effort to get out and change the things they don't like. People that become dependent on other people to make them happy. People that always look at life as half empty instead of half full. Well guess what? There is an entire world out there! A really BIG world. Each and everyone of us has the power to go out and run towards a life we want to live- and no, you do not have to be an actual runner to listen to this advice. There is absolutely nothing stopping you. Yes, there may be obstacles that come up but who says you cant conquer those too? Nobody.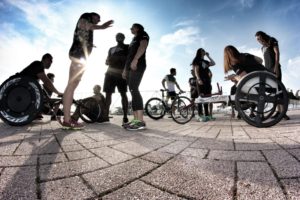 But then you see the another group of people. The people that crave life. Those are the people you want to surround yourself with. You get out on the trail and run and without having to say anything; you nod to a fellow runner that's sweating just as much as you but with every drop of sweat, you know they are chasing something out of this life, just like you. It is then that I can't help but smile.  This IS the running community. It really is a special community to be a part of.  When we run; we are choosing to put one foot in front of the other and run towards the life that is right in front of us. We chase the life we want, together.
We always hear that "everything happens for a reason," I don't think we will ever figure out the reason why Jack was taken away from us  but I know he has been behind me every step of the way. I look back now and wonder; what if I didn't use sport as an outlet of normalcy when Jack died? I would have never had half of the opportunities I have experienced, I would have never met half of the people in my life today. I would not be the Mary Kate many people know today. So thank you jack, thank you for chasing this light with me and leading me through this life. One step at a time.
I challenge every single of of you. Set your alarm, get out there, and chase the sun one morning. Just one. See for yourself what I'm talking about. What are you running towards? Run towards what sets your heart on fire. And then keep running.
And next time, when you see me smiling while I'm running, you know why.
Thank you running.
See ya in 14 days CHICAGO MARATHON!
I run because long after my footprints fade away, maybe I will have showed a few to reject the easy path, hit the trails and put one foot in front of the other, and come to the same conclusion I did; I run because it will always take me where I want to go.
Until next time,
MK