Mary Kate's life and sports journey began when she was just 5 ½ months old.  Her life was forever changed on the night of December 19, 1995.During the night a virus called Transverse Myelitis, attacked her spinal cord and left her a T8-T10 paraplegic. She began swimming as part of aqua therapy, joined her local swim club, and never looked back.

As a high school swimmer, Mary Kate was a captain of Fenwick High School's 2012 State Championship Runner-Up team. As part of her efforts to swim at the state high school championships she teamed up with the Illinois Attorney General and Equip for Equality.Together they compelled the Illinois High School Association to create opportunities for disabled athletes to compete in state level competitions. As a result of this effort, Mary Kate and six other girls were the first athletes with a disability in Illinois history to compete at the state championship swim meet.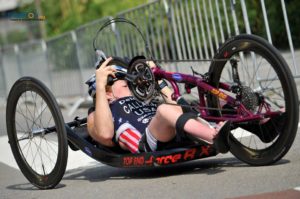 In 2012, Mary Kate became the youngest member of the USA World Paratriathlon Team. Since then she been a member of the USA World Championship Teams in 2014, 2015, 2016, and 2017. This has allowed her to travel the world while competing against some of the best in the world. In October of 2015, she set the course record at Ironman Louisville (2.4 mile swim, 112 mile bike and a 26.2 mile run).
Mary Kate is a mentor and motivational speaker discussing adversity and encouraging children and young adults to engage in an active lifestyle. She also serves as a Sport Envoy and most recently traveled to Uzbekistan to work with their Paralympic Association, coaches and athletes to help continue to develop their Paralympic programming.
In May 2017, Mary Kate graduated with a psychology degree from the University of Arizona. She now works in the Human Resources department at Motorola Solutions in Chicago, IL.
Never Never Never Give Up