South Caroline, Mexico, Arizona, London, and now Chicago. The last six weeks have gone by in a blink of an eye probably because I haven't seemed to be in one place for longer than a few days. Now I'm back in Chicago for a few weeks and I'm so so happy about that. It's been awhile since I've been able to update but I'll do my best to make it quick 🙂
First, Schools out for Summer!! Somehow I'm already heading into my junior year——so scary! The last few weeks of school were probably my most hectic yet! My season started to pick up just as the school year was ending so with traveling and studying for finals- I'm just happy to have made it to the sophomore year finish line!
I headed to Mexico at the beginning of May for the CAMTRI Championships. A lot of us had no idea what to expect regarding the venue. We arrived and it was probably logistically the most conveinent venue an ITU race has been at. The course was literally just steps outside of our hotel. The bike course resembled an F1 race track and the swim was practically in a chlorinated lazy river (without the current of course). So after previewing the course, I was super excited about the race! The race itself was pretty uneventful; had a normal swim, had one of my best bike splits, and had a great run. This was a race I knew I was capable of having after the training we did in the off season.  I came across the finish line 2nd, behind another USA athlete. After coming across the finish line I was notified I was selected to be drug tested. This was my first time going through drug testing so I was definitely the "newbie" in the room with everyone else who was being tested. By the time I finally was able to give them a sample, it was 3 hours after the race. Yes, I was hangry, tired, and ready for a shower by the time I was done but its so great knowing we are keeping the sport clean.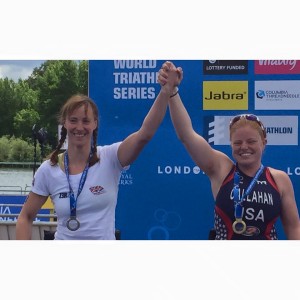 A week after finishing school, my dad and I headed to London for a race! This was a course I was super excited about racing on, especially since this was the World Championship I missed back in 2012. I had only heard great things about this WTS race so the excitement leading up to this race was just what I needed…especially coming off of a long 2 weeks of finals. It was pretty neat setting up transition knowing this was where the 2012 Olympic Triathlon course was. The weather in London is always questionable but we woke up on race morning with the sun shining! The gun went off and the race began. My swim was definitely not one of the best swims I have had and I came into T1 about 1:15 behind first place. I didn't want to panic and just went out on the bike trusting myself. I started to slowly make up time an by the 2nd lap (out of 5) I was able to pass the first place girl. I tried to push my pace a little more on the bike and take advantage of the flat course. I headed in T2 in a good position, ran the run I knew I had in me and came across the finish line to earn the top spot on the podium. Mission complete! I was able to not only get first place in London but I also earned my elite card. As always I'm so lucky to have my Dad travel with me and be my handler! I know he is usually more nervous than me on race days and I couldn't even imagine the suspense as he waits for all of us to come into transition. I sometimes think he has one of the harder jobs, especially the races that end up coming down to transition times! Go Dad Go! We stayed in London for a few days after the race and were also able to catch the USA elite able-bodied women sweep the podium. USA Triathlon had a great weekend in London and I headed back to the USA being extra proud to be an American!
This season is different than last in the sense that the ultimate goal of Rio is no loner there due to the women's wheelchair classification not being a medal event. However, I knew I wanted to keep racing ITU races because of the competition that is still there. It's great racing against these other athletes and being pushed on the courses.
Ironman is a switch of focus but it's a goal I'm feeling ready to tackle. It's a goal that has already been pushing me and gets me excited to wake up and see what I can conquer in that day. Now I'm back in Chicago until I head to Muncie for my first 70.3. It's nice to be back on home turf and be back in a routine.
"Be stubborn about your goals, but flexible about your methods."
Until next time,
MK